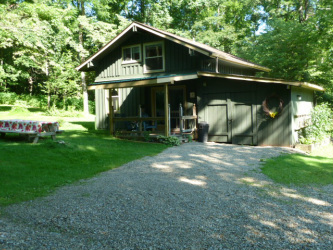 Livi's Cottage in early Spring
​
Livi's Cottage, constructed by Amish craftsmen, is graced with knotty pine walls and hardwood floors. Named after our only daughter, Olivia, who attends college in OHIO., The whimsical feel & charm of this cabin welcome you "home". The bathroom includes sink, toilet and shower. The loft bedroom, includes one double bed and two queens all together, purchased new in 2013. Each morning, enjoy your coffee on the small outside deck or soak in the hot tub after a day out in the country. Your evening activities can include fishing in our pond, enjoying the sights and sounds of nature or playing games/cards in your cabin. The other cabin is about 100 yards away. Livi's Cottage is open for winter time use.
---
| | |
| --- | --- |
| Sleepy Hollow, the larger, newer cabin, sits at the end of the road. It's secluded feeling, rustic setting and Yellowstone themed decor make it a favorite for larger parties. The sleeping loft includes 3 queen beds (no separate bedrooms). In both cabins, the upstairs loft contains one room with 3 beds. | |
Some of our guests comments...
"
Very quiet & peaceful; very clean cabin with nice hot tub. Well-maintained cabin and grounds. We had a great weekend away from our normal, crazy lives
". Bob & Joyce.
"T
his was our second trip to Bullfrog Mountain and it won't be our last! My husband and I were married in a cabin in Ohio a few years ago. Each year we find a cabin to rent for our anniversary. We have stayed in Sleepy Hollow the past two years and have not been disappointed!. It is so nice to relax and unwind. The cabin is homey, peaceful, and private. Our first evening there this trip while soaking in the hot tub we had 3 deer right outside our cabin. :) The cabin is always clean and we have had nothing to complain about in two trips. We drive from about 4 hours north in Michigan, as we have found nothing available and comparable to rent closer to home. Well worth the drive!" Stephanie & Ryan"Renting a cabin at Bullfrog Mountain was just amazing. Kathy and Mike were friendly, helpful and in a moment's talk, I felt like we were with family. We drove up to our cabin, and it was so isolated and quiet. We loved the peace and how we could open windows and doors to let the cool evening air in. The cabin was spotless, the bed slept very well and we enjoyed all of the little things that made the cabin feel like home, the kitchen was well stocked with appliances, the coffeemaker was large, the bath had pretty, large, fluffy towels. The living room was comfortable. Everytime you looked around, you found a different antique hanging on the walls. We celebrated our anniversary at the cabin and Kathy and Mike surprised with a small gift which was so special. All in all we can't wait to come back and stay again at Bullfrog Mountain.
" Lloyd & Sue
​
What a fantastic, relaxing few days celebrating our 4th anniversary at Sleepy Hollow! The cabin was beautifully appointed, clean and well stocked, and the grounds were gorgeous. There was a sweet welcoming note for us from the owners on the kitchen table as well. We will be back and I would love to plan a girls weekend here in the future! Heather